News from the Energy Researchers at NERA
Welkom bij NERA!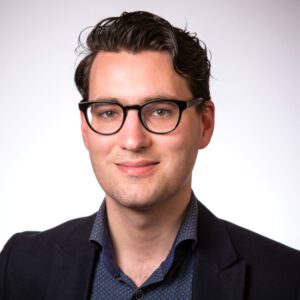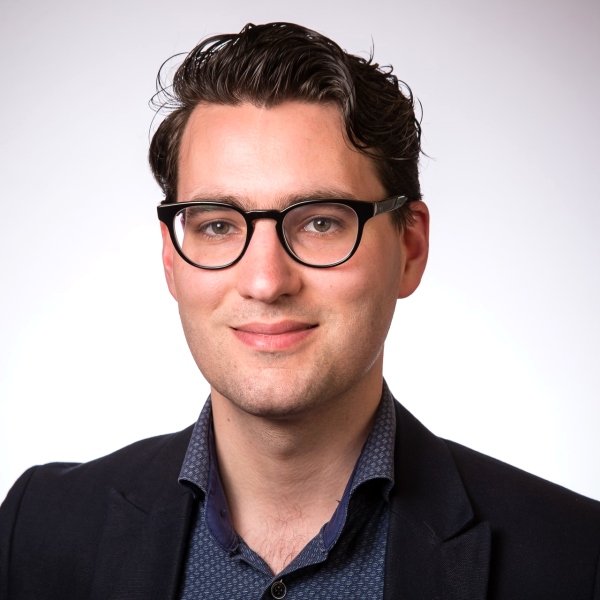 Dit is de eerste blogpost op de vernieuwde website van NERA. Van harte welkom! In deze post zal ik mezelf kort voorstellen en NERA introduceren. In volgende posts zal ik – of een van de andere mensen van NERA – dieper ingaan op spannende ontwikkelingen in de energietransitie.
Mijn naam is Mark Boneschanscher en ik ben in het dagelijks leven de managing director van EIRES, het instituut van de TU Eindhoven gericht op energieonderzoek. Daarnaast ben ik de algemeen secretaris van NERA. In beide rollen ben ik een soort 'manusje van alles', een heerlijke rol met een hoop vrijheid. Verder probeer ik zowel bij NERA als EIRES om samenwerkingsverbanden op te zetten. Tussen onderzoekers onderling, maar ook tussen onderzoekers en bedrijfsleven, of met overheidspartijen. Want ik ben ervan overtuigd dat dit de enige manier is om de energietransitie te versnellen.
Daarmee komen we ook meteen bij de kern van NERA. Toen NERA in 2013 werd opgericht was dit vanuit de overtuiging dat er veel beter kon en moest worden samengewerkt in het energieonderzoek. De partijen van het eerste uur waren TNO, ECN, FOM, en de technische universiteiten van Delft, Eindhoven en Twente. Bij de start was het plan vooral dat NERA een krachtenbundeling richting Europa zou zijn. NERA was daarmee in eerste instantie een bestuurlijk overleg, met daarbij ook een werkgroep die hier uitvoering aan gaf.
In de afgelopen acht jaar is er bij NERA veel veranderd. Er is een Scientific Board ingesteld die als dagelijks bestuur optreedt. Daarmee is de focus van bestuurlijk naar wetenschapsinhoudelijk overleg verschoven. Ook ligt de nadruk nu minder op Europa en meer op nationale afstemming en samenwerking. ECN is opgegaan in TNO en FOM is opgegaan in NWO, daarnaast zijn de universiteiten van Utrecht, Groningen, Leiden en Amsterdam (UvA) toegetreden tot de organisatie. Hiermee is de oorspronkelijk vooral technische focus veel breder geworden, met expliciete nadruk op het belang van het sociaal- en geesteswetenschappelijk onderzoek binnen de energietransitie.
Maar met al die veranderingen is er binnen NERA één kerndoel overeind gebleven. En dat is het versterken van de samenwerking in het energieonderzoek. Zo heeft NERA de route Energietransitie opgezet binnen de Nationale Wetenschapsagenda (NWA). Ook heeft NERA meegewerkt aan de totstandkoming van het missiegedreven innovatiebeleid. Over beide onderwerpen valt een aparte blogpost vol te schrijven, en die zal dan ook nog wel volgen. Met dit alles is de samenwerking in het energieonderzoek ook wel echt sterker geworden. Maar tegelijkertijd is de energietransitie in een dusdanige versnelling gekomen dat er zich weer allerlei andere uitdagingen hebben aangediend.
Zo vraagt het missiegedreven innovatiebeleid om een echt andere vorm van organisatie van het onderzoek. Ook wordt de aansluiting bij Europa weer steeds belangrijker. We zijn bezig met een balanceer act tussen impact hier en nu – want elke ton vermeden CO2-uitstoot telt – en tussen het werken aan de vraagstukken waarvoor nu nog geen oplossing in zicht is. Want voor de oplossingen van 2050 moeten nu al de zaadjes worden geplant.
Kortom, wordt vervolgd!
Welcome to NERA!
Kennisinstellingen als co-creators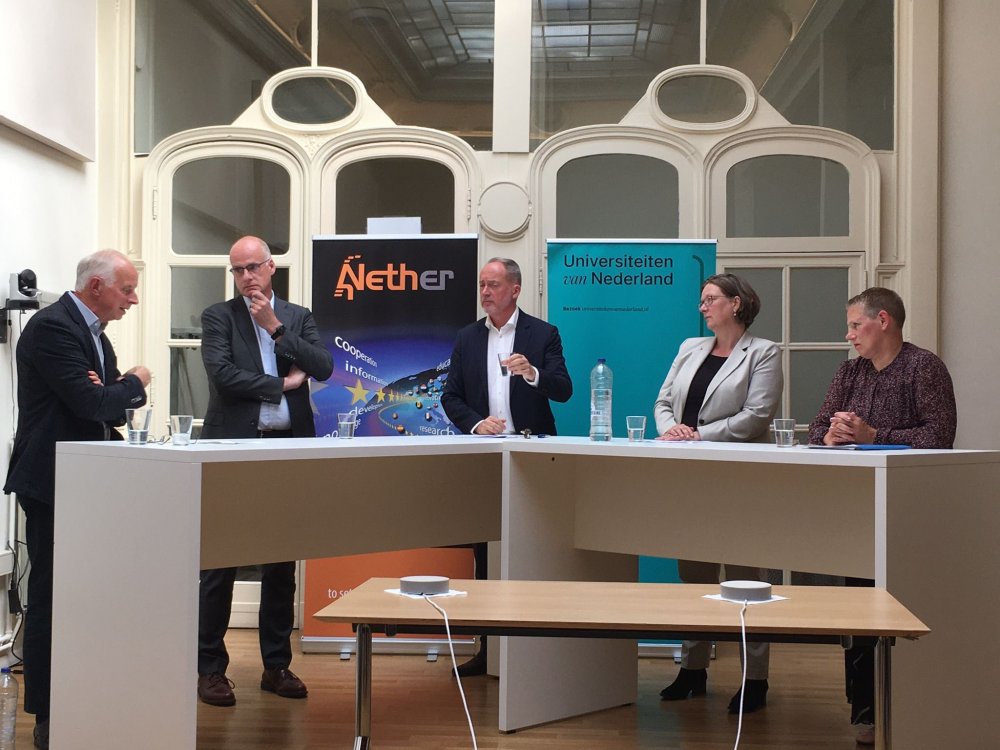 Wat heeft de Green Deal in petto voor onderzoek en hoe kunnen we ervoor zorgen dat kennisinstellingen co-creators zijn? Dit evenement, gemodereerd door Jurgen Rienks, directeur van Neth-ER, had als doel deze vragen te beantwoorden. Anastasios Kentarchos, Adviseur Klimaatwetenschap & Innovatie bij het Directoraat-Generaal Onderzoek & Innovatie van de Europese Commissie, trapte het evenement af door het beleid en de mogelijkheden voor onderzoek in relatie tot de Green Deal op EU-niveau te belichten. Daarna volgde een paneldiscussie over de Green Deal onderzoeksactiviteiten, ambities en behoeften van kennisinstellingen en de Nederlandse overheid, met Kornelis Blok (voorzitter TU Delft Energy Initiative en hoogleraar Energy Systems Analysis, voormalig voorzitter NERA -Netherlands Energy Research Alliance), Joep Houterman (voorzitter College van Bestuur Fontys Hogescholen), Tirza van Daalen (directeur Geological Survey of the Netherlands bij TNO) en Ineke Hoving-Nienhuis (coördinator Horizon Europe bij het Ministerie van Economische Zaken en Klimaatbeleid).
Lees meer hier.
Knowledge institutions as co-creators
De energietransitie moet sneller
Naast technologische ontwikkeling is ons gedrag cruciaal om de energietransitie te versnellen. We hebben een integrale aanpak nodig waarin oog is voor de onderlinge samenhang tussen de verschillende sectoren en de relatie met andere grote maatschappelijke vraagstukken.
Onze broeikasgasemissies moeten sneller omlaag om de in Parijs afgesproken doelstellingen te halen en de aarde leefbaar te houden voor de jongere en toekomstige generaties. Hoe langer het duurt, hoe kleiner de kans van slagen. Wat is er daarvoor nodig? Dat is natuurlijk niet in een paar zinnen samen te vatten. Twee aspecten vind ik echter wel duidelijk.
Te vaak wordt de energietransitie nog als een vooral technologisch probleem gezien. Het vertrouwen lijkt groot dat we het allemaal met betere technologie gaan oplossen. Maar dat klopt niet. Alhoewel technologische innovatie en vooruitgang een belangrijke rol spelen, moeten we eerlijk en duidelijk zijn over het feit dat verandering van ons gedrag en consumptiepatronen net zo hard nodig zijn.
Persoonlijk schrik ik ervan als ik me realiseer hoe alleen al tijdens mijn eigen leven de consumptie van bijvoorbeeld spullen en mobiliteitsdiensten ontwikkeld is naar steeds meer, sneller en verder. Om deze ontwikkeling te keren zijn eerlijke prijzen voor producten en diensten nodig waarin die emissies zijn meegenomen. Maar er zijn ook nieuwe verhalen nodig die laten zien dat er alternatieven zijn voor onze huidige manier van doen.
De sustainable development goals van de VN zijn hier een goed voorbeeld van. Zij houden rekening met gezondheid, onderwijs, verminderen van ongelijkheid, verantwoordelijke consumptie en biodiversiteit, naast verantwoorde economische groei.
Een duidelijk tweede aspect, is de noodzaak voor een integrale aanpak. In deze transitie moet van alles gebeuren. Tegelijkertijd moeten we zorgen dat de reductie van broeikasgasemissies niet andere problemen vergroot of zelfs veroorzaakt, zoals het uitputten van schaarse materialen, aanvullende druk op de biodiversiteit of het vergroten van de ongelijkheid in onze maatschappij en in de wereld.
Versnelling vraagt natuurlijk vooral om doen of "actie, actie actie!", zoals Premier Mark Rutte bij de klimaattop in Glasgow zei. Een goede onderbouwing met kennis helpt om bewuste en toekomstbestendige keuzes te maken. Hier ligt ook onze verantwoordelijkheid als onderzoeksinstituten. Laten we samen een goede kennisbasis maken voor een succesvolle energietransitie.
Met de publicatie "De energietransitie moet sneller – dit is nodig om de klimaatdoelstellingen te halen" willen wij de discussie over wat kan en wat nodig is voor de versnelling van de energietransitie voeden en beslissers en beleidsmakers bij overheden en het bedrijfsleven een overzicht bieden over hoe alles met elkaar samenhangt.
Wat kunnen we samen betekenen voor de energietransitie in Nederland?
Deze blogbijdrage is geschreven door Katharina Andrés, Plaatsvervangend Onderzoeksmanager TNO Energietransitiestudies
The energy transition must accelerate
Dag tegen Gas 27 maart
Met een groep experts uit de energiewereld en creatieve sector roepen we 27 maart uit tot de DAG tegen GAS. Het is namelijk tijd voor tegengas tegen de afhankelijkheid van Russische fossiele brandstoffen. Dit doen we voor 🇺🇦Oekraine, voor een lagere energierekening en voor het vertragen van klimaatverandering. Hoe? We willen middels deze landelijke dag zoveel mogelijk gas-gebruikers aansporen hun energie verbruik, systematisch, te verminderen.
Day against Gas March 27th
VIDEO: Prof. Paulien Herder
In deze video spreekt professor Paulien Herder van de Technische Universiteit Delft over toekomstige systemen voor defossilisering van de chemische industrie. Ook vertelt ze onder meer over het belang van NERA bij de innovatieagenda en het vinden van partners.
VIDEO: Prof. Paulien Herder
Pleidooi samenwerkingsprogramma snelle energiebesparing
Pleidooi voor een Samenwerkingsprogramma snelle energiebesparing van en voor burgers, bedrijven en overheid: vijf miljard kuub minder aardgas binnen één jaar
14 Maart 2022 – Het is nog nooit zo duidelijk geweest dat we onze energievoorziening radicaal moeten verduurzamen: er is een klimaatcrisis, we zijn afhankelijk van gewelddadige dictators en de energierekening rijst de pan uit. Dit is hét moment om samen in actie te komen.
Snelle energiebesparing en overgang op duurzame energie is de enige structurele weg vooruit: dit lost veel problemen tegelijk op. Als we het samen doen, kan dit snel veel opleveren. Al onze organisaties hebben daar vele tips en oplossingen voor. Ook nu staan we klaar om mensen en bedrijven te helpen.
Plea quick energy saving cooperation programme
VIDEO: Prof. Richard van de Sanden
14-februari 2022 -In deze video spreekt professor Richard van de Sanden over het tot stand komen van de Nationale Wetenschapsagenda (NWA) en de betrokkenheid van NERA – The Netherlands Energy Research Alliance bij de coördinatie van het energie onderzoek in Nederland.
VIDEO: Prof. Richard van de Sanden
Essay Professor David Smeulders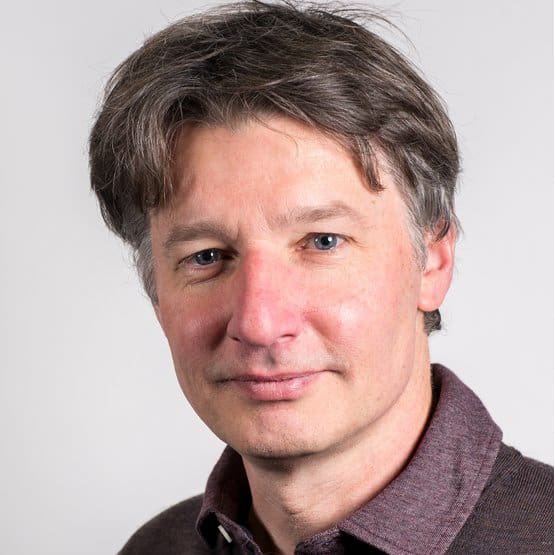 5 februari 2022 – Professor of Energy Technology David Smeulders publiceerde op 5 februari een essay met de titel "Nee, we moeten niet van het gas af (en dat gaan we ook niet)" in dagblad Trouw. David Smeulders is lid van de Scientific Board van NERA. De NERA Scientific Board ontwikkelt en communiceert de positie van NERA in de (inter)nationale energie(innovatie)beleidsarena en in de (inter)nationale energieonderzoeksgemeenschap.
Essay Professor David Smeulders
Samenwerking NERA en ScienceFinder
20 januari 2022 – In deze video spreken Mark Boneschanscher van de Netherlands Energy Research Alliance (NERA)
en Tijmen Altena van IDfuse/ScienceFinder over de samenwerking waardoor actuele informatie over Energie Onderzoek in Nederland op een laagdrempelige wijze nog sneller kan worden gevonden.
ScienceFinder is een online zoekplatform waar je de juiste experts kunt vinden bij jouw kennisvraag. Door het verder ontsluiten van deze informatie wordt een bijdrage geleverd aan de verspreiding van wetenschappelijke kennis ten behoeve van de energietransitie.
Zie ook: https://www.nera.nl/energy-research-map/
NERA and ScienceFinder collaboration
Energieonderzoek in het coalitieakkoord
Door Mark Boneschanscher
18 DECEMBER 2021 – Een voorzichtig gejuich ging gisteren op in de NERA Scientific Board toen enkele passages uit het coalitieakkoord werden voorgelezen.
Zo is ons pleidooi voor grote samenhangende interdisciplinaire programma's over de hele innovatieketen voor onderzoek en innovatie naar klimaat neutrale technologieën rechtstreeks overgenomen in het coalitieakkoord. En met het instellen van een ministerpost voor klimaat en energie lijkt ook de boodschap geland te zijn dat de overheid meer regie moet voeren op de energietransitie. Waarbij de wetenschap dan richting kan geven door de nog in te stellen onafhankelijke wetenschappelijke adviesraad. Allemaal belangrijke stappen die een voorzichtige trendbreuk lijken in te zetten van het denken dat de vrije markt het allemaal wel zal oplossen naar een groeiend besef dat het allemaal toch wel wat complexer is dan dat.
Waarom dan toch alleen een voorzichtig gejuich en geen knallende champagnekurken? Dat zit hem denk ik in twee punten. Allereerst heerst bij mij na het lezen toch een gevoel van 'eerst zien, dan geloven'. Bij al de aangekondigde maatregelen en ook de forse investeringen zit het hem echt in de uitvoering. Aanstellen van een minister voor klimaat en energie is prachtig, maar krijgt deze ook een eigen ministerie? Of valt hij/zij straks alsnog onder het Ministerie van EZK? Dat het economisch beleid ontkoppelt moet worden van energie en klimaat lijkt nog steeds niet van harte doorleefd. Zinsneden als 'onderzoeken van mogelijkheden om financiële prikkels voor fossiele brandstoffen af te bouwen … en waar mogelijk te beëindigen … met het oog op ons vestigingsklimaat' geven in ieder geval nog niet het gewenste vertrouwen.
Dit brengt me bij het tweede punt. De huidige maatregelen, hoezeer die ook nodig en gewenst zijn, zijn feitelijk oplapmiddelen op het oude systeem. De energietransitie is echter een systeemtransformatie. Een dergelijke transformatie vraagt om een duidelijke visie op hoe het nieuwe systeem er uit gaat zien. Die visie lijkt vooralsnog te ontbreken, waardoor het ook moeilijk is om een helder perspectief te geven op de veranderingen die nodig zijn om dit nieuwe systeem te bereiken. Hopelijk kan de nieuw in te stellen wetenschappelijke adviesraad hier uitkomst bieden. Als deze in een positie wordt gebracht van waaruit ze naast 'beoordelen en adviseren over het beleid' een gecoördineerde aanpak op de energietransitie kunnen gaan uitzetten.
Een aanpak waarbij onderzoek voor de doelen van 2030 niet in competitie hoeft met onderzoek voor de doelen van 2050. Maar waarbij onderzoek is georganiseerd in grote samenhangende programma's die lopen van fundamenteel, toegepast en praktijkgericht onderzoek tot pilots en demonstratieprojecten. En waarin technisch en sociaalwetenschappelijk onderzoek vanaf het begin is gekoppeld. Een aanpak waarbij de financiering dit ook faciliteert, in plaats van – zoals nu – versprokkeld te zijn over allerlei uitvoeringsinstanties, ministeries, topsectoren of missieteams, die met diverse instrumenten verschillende subthema's en TRL-gebieden proberen te bedienen. Kortom, een gecoördineerde aansturing vanuit een systeemperspectief.
Want alleen met een dergelijke integrale aanpak kunnen we hopen de CO2-emissies versneld te gaan reduceren. Dat is in ieder geval de boodschap die we als NERA met onze position paper naar buiten hebben gebracht en waarvan we nu gelukkig de eerste elementen terugvinden in het coalitieakkoord. Het valt te hopen dat we tijdens de regeerperiode een even luisterend oor blijven vinden als tijdens de coalitievorming. Want uiteindelijk willen we allemaal hetzelfde: de energietransitie zo snel mogelijk uitvoeren tegen zo min mogelijk maatschappelijke kosten en met zo veel mogelijk maatschappelijk draagvlak.

Bekijk hier: NERA Position paper Energie-onderzoek voor de energietransitie.pdf
Energy research in the coalition agreement
Opiniestuk: Politieke partijen vullen energietransitie niet in
Door Gert Jan Kramer en Sanne Akerboom
NOVEMBER 2021 – Politieke partijen discussiëren over klimaatdoelen en de wenselijkheid van energietechnieken. Maar ze zwijgen over de nieuwe taken van de overheid die daarbij nodig zijn.
De verkiezingsprogramma's staan vol mooie woorden over de klimaatdoelen voor 2030 en daarna. Bij onze analyse van de programma's kwamen we echter weinig concrete plannen tegen om die doelstellingen te halen. Dat is tragisch, want alleen met meer sturing van de overheid krijgt de energietransitie voldoende vaart.
In de discussie gaat het vooral over doelen in de verre toekomst en welke duurzame technieken we daarvoor willen inzetten. Maar we zullen alle beschikbare technieken nodig hebben om in de buurt van die doelen te komen. Veel te kiezen valt er niet. De echte vraag is hoe de overheid meer regie kan nemen.
Lees hier meer: Opiniestuk (PDF)
Opinion piece: Political parties fail to give substance to the Energy Transition
Kick-off project "New Routes for the Energy Transition"
NOVEMBER 2021 – Op 21 oktober is het project "New Routes for the Energy Transition" officieel van start gegaan. De komende tien maanden zetten TNO, Universiteit Utrecht (UU) en DIFFER nieuwe landelijke onderzoeksgemeenschappen op om de energietransitie te versnellen. NWO financiert drie projecten gericht op ruimtelijke ordening, toekomstige energie-infrastructuur en de zakelijke uitdaging voor de energietransitie. TNO, UU en DIFFER gaan nieuwe communities creëren om relevante kennis – zowel uit de wetenschap als uit de samenleving – samen te brengen.
Tijdens een productieve bijeenkomst met haar projectleden, georganiseerd door de Universiteit Utrecht, werden de projecten in detail besproken en werden belangrijke cross-overs geïdentificeerd. Vooral dit laatste aspect is van belang omdat de energietransitie samenwerking tussen verschillende disciplines vereist.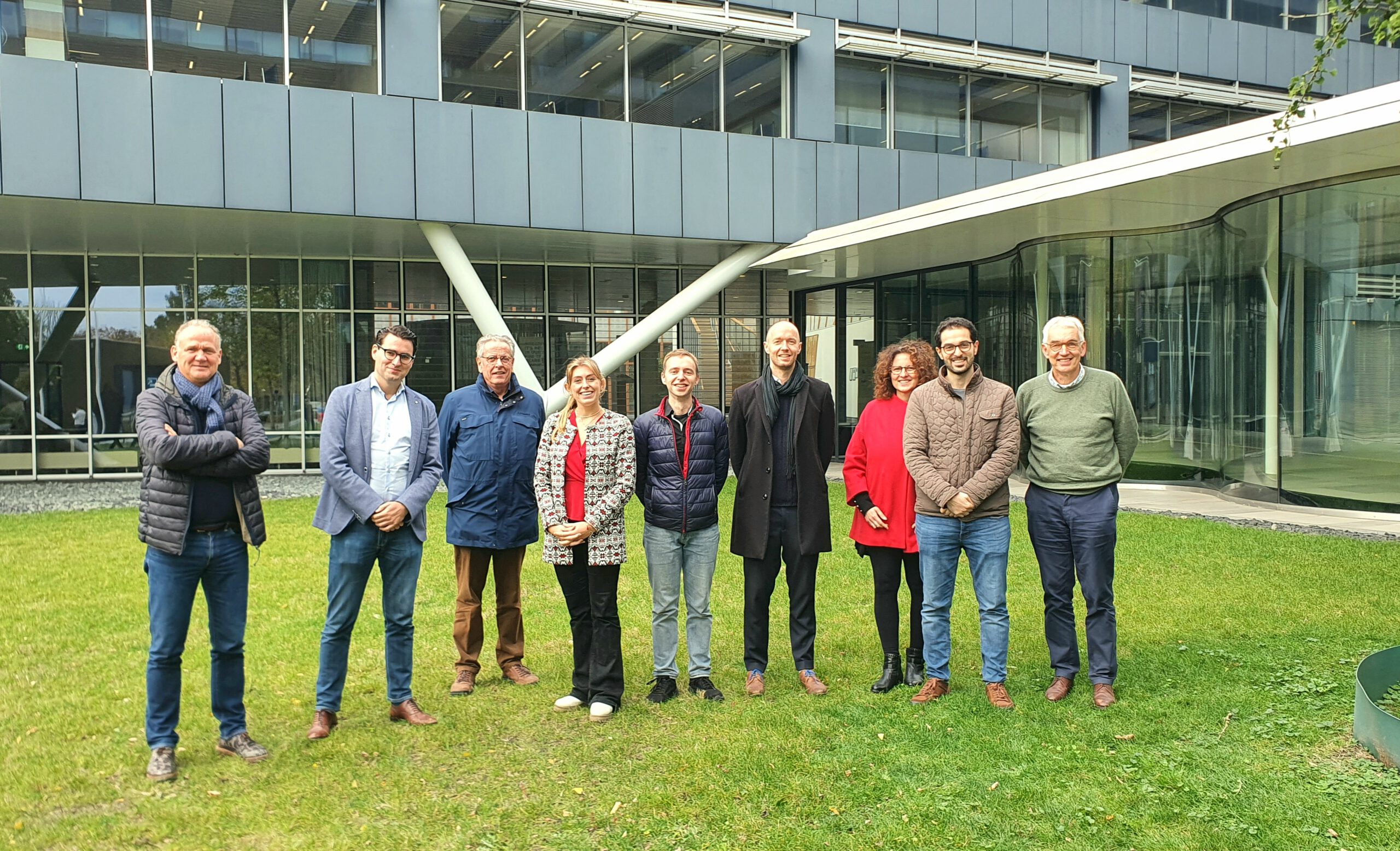 Foto: De kick-off deelnemers van Universiteit Utrecht, TNO, NERA, NWO en DIFFER.
NERA-rol
Dat is waar NERA om de hoek komt kijken. NERA – de Netherlands Energy Research Alliance brengt de Nederlandse onderzoeksinstellingen die werken aan duurzame energie samen en begeleidt de Nationale Wetenschapsagenda-route Energietransitie. De eerste antwoorden in deze projecten zullen naar verwachting leiden tot nieuwe onderzoeksvragen en consortia die in het kader van het traject Energietransitie verder kunnen worden ontwikkeld. De focus van deze onderzoeksprojecten werd bepaald door de Wetenschappelijke Raad van NERA
Mix van energiedragers: infrastructuur
Eén project zal zich concentreren op het multi-energiedragerkarakter van het toekomstige circulaire energiesysteem. Gezien de transitie waarin we ons bevinden, is het vooralsnog onduidelijk hoe de mix van energiedragers in ons toekomstige CO2-neutrale energiesysteem eruit zal zien. Maar we kunnen niet wachten om de benodigde grootschalige infrastructuur te bouwen. Het doel van dit project is dan ook om de juiste processen en procedures op te zetten om te komen tot een systeemontwerp van de toekomstige energie-infrastructuur, ondanks de huidige onbekenden. Richard van de Sanden en Beatrix Bos van DIFFER voeren dit deelproject uit.
Ruimtelijke ordening
Het belang van ruimtelijke ordening in de energietransitie neemt snel toe. Onderzoeksvragen in het tweede project zijn hoe om te gaan met concurrerende claims, en hoe processen en procedures te verbeteren om de energietransitie beter te integreren in de omgeving.
Investering onder onzekerheid
Het derde onderwerp is de zakelijke uitdagingen voor de (Nederlandse) industrie. Het Nationaal Klimaatakkoord biedt een lange termijn strategische afstemming op doelen, maar er is nog geen robuuste visie op de weg naar 2050, noch een gedeelde visie op de 2050 portfolio van industriële activiteiten. Dit leidt tot investeringen onder onzekerheid. Doel van dit deelproject is om te onderzoeken hoe met deze onzekerheden om te gaan en het toekomstige investeringsklimaat te verbeteren.
Consortiumpartners
DIFFER, Universiteit Utrecht, TNO, Sustainable Industry Lab, Sustainable Finance Lab, EIRES
We zijn al op zoek naar partners voor onze nieuwe onderzoeksgemeenschap. Wil je meer info ontvangen of meedenken, neem dan contact op met Leo Dvortsin van NERA: l.dvortsin@rug.nl
Meer informatie:
https://www.differ.nl/network/joint-programs
A head-start for the New Routes for the Energy Transition project
Belang van sociale wetenschappen bij energietransitie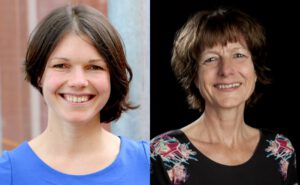 19 juli 2021 – In de video hieronder vertellen Hoogleraar Omgevingspsychologie Linda Steg en Universitair Docent Omgevingspsychologie Goda Perlaviciute, beiden van de Rijksuniversiteit Groningen, over het belang van sociale wetenschappen bij de energietransitie.
De energietransitie is niet alleen een technische maar ook een maatschappelijke uitdaging. Om de energietransitie mogelijk te maken, is het nodig dat mensen hun gedrag veranderen, zoals minder en efficiënter energie verbruiken, en overstappen naar duurzame energiebronnen. Bovendien is het belangrijk dat er voldoende maatschappelijk draagvlak is om veranderingen in energietechnologieën, energiesystemen, en energiebeleid te implementeren.
De sociale wetenschappen bieden belangrijke inzichten in welke factoren invloed hebben op duurzaam gedrag van mensen en op maatschappelijk draagvlak voor duurzame energietechnologieën, systemen, en beleid. De energietransitie is alleen mogelijk wanneer er rekening wordt gehouden met wat mensen motiveert en in staat stelt om bij te dragen aan de energietransitie.
Importance of social sciences in energy transition