Roadmaps
NERA aims for optimal knowledge sharing, coordination and cooperation in energy research for an effective and successful energy transition. Therefore, NERA supports the development of roadmaps, agendas and routes for the energy transition. Here we present some of the most relevant integral roadmaps for our community. If you feel that other roadmaps should be added, please contact the NERA secretariat.
Dutch Climate Agreement: Integral Knowledge and Innovation Agenda (IKIA)
The Dutch Climate Agreement states that we will reduce the Dutch emission of greenhouse gases with 49% in 2030 and 95% in 2050, with respect to the 1990 levels. This requires a lot of knowledge and innovation in all sectors of our society. This is organized in the integral knowledge and innovation agenda (IKIA) in the form of 6 missions:
Each of these missions is elaborated in several multi-annual mission driven innovation programs. For a full overview thereof see the figure below. In this way, the sectors are encouraged to organize themselves in order to meet the milestones contributing to the overarching goals of the Climate Agreement. The IKIA is a leading document for the subsidies provided on energy research by e.g. NWO for the KIC or RVO for the Topsector Energy.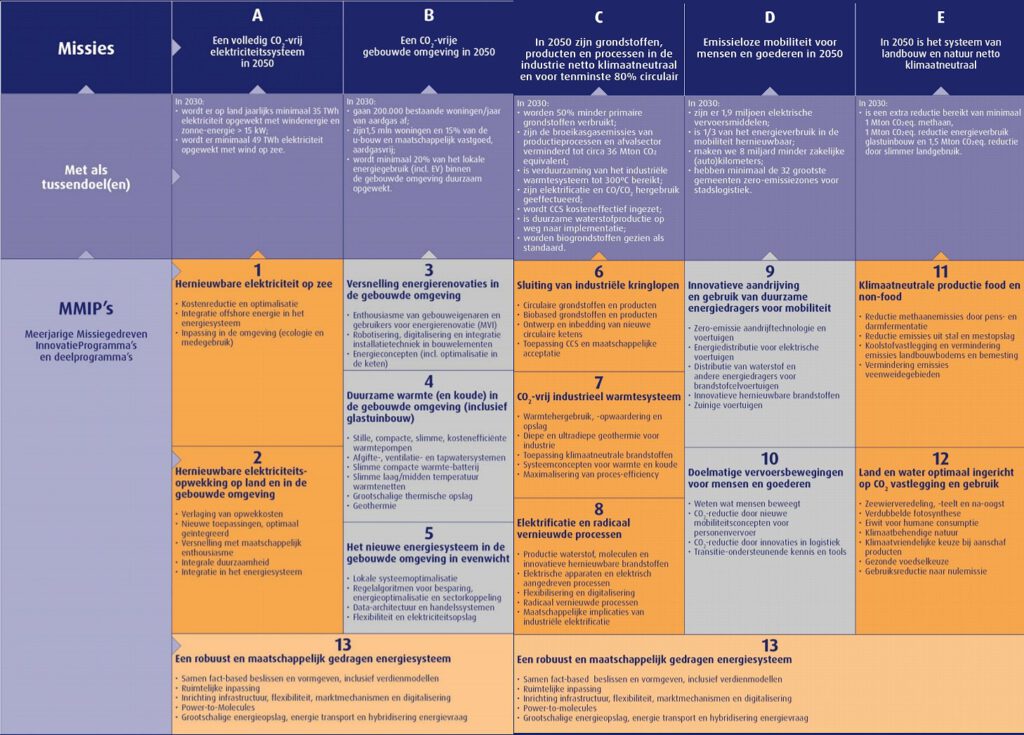 Source: https://www.klimaatakkoord.nl/themas/kennis–en-innovatieagenda/documenten/publicaties/2019/03/12/innoveren-met-een-missie
Dutch Research Agenda (NWA) – Route Energy Transition
The NWA Route Energy Transition is one of the 25 routes based on the 140 questions of the Dutch Research Agenda (NWA). This Route shows that the societal challenge of the energy transition gives rise to many fundamental questions with ample room for curiosity driven science. The Route pleads that the game changer for a successful transition to a sustainable and secure energy system is an integrated approach to the technical, social, economic, legal, and spatial challenges at the basis of the energy transition. It proposes ten urgent challenges that need to be addressed in long-term programming in close collaboration between public and private parties. Learn more on the ten challenges in the route description.
NWO has several funding instruments on the NWA, allowing for curiosity driven research consortia on the energy transition (NWA-ORC), co-programming on certain challenges in this route with the ministries (NWA-Thematic Programming), novel ideas and consortia formation, and science communication and outreach.